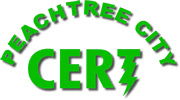 The Community Emergency Response Team (CERT) training is a Federal Emergency Management Agency (FEMA) program designed to prepare individuals to help themselves, their family and their neighbors in the event of a disaster with a focus on the first 72 hours. This is done by educating them on the hazards they face in their community and by training them in lifesaving skills they may need to use in the event of a catastrophic event.
CERTs may also give critical support to first responders in emergencies by providing immediate assistance to victims, managing utilities and small fires, organizing spontaneous volunteers and by collecting disaster intelligence. This "all hazards" training prepares members of the community, neighborhoods and workplaces to take a more active role in emergency planning for their area and to prepare themselves and others for disasters and emergencies.
CERT is about readiness, people helping people, rescuer safety, and doing the greatest good for the greatest number of people. CERT is a positive and realistic approach to emergency and disaster situations where citizens will be initially on their own and their actions can make a difference. CERT involves learning basic skills that are critical in a disaster situation when emergency services are not readily available.

(website optimized for MSIE 8+, Firefox, Chrome, Opera)